Whitewater and Sea Kayak Instruction and Tours
Let's Kayak!
We offer a variety of classes and tours for beginners and experienced paddlers from tranquil flat water to thrilling white-water rapids. 
All classes include basic gear (kayaks, paddles, pfd, spray skirts, etc.)
Beginning and Intermediate Flat-water/Sea Kayak Instruction,
Whitewater Kayaking Classes,
Whitewater, Ocean, and Flat-water Tours to Great Locations, and
Skill-building Clinics.
Schedule subject to change, please contact us if you have questions or wish to schedule a class on a date not listed.

Please see web page calendar for latest scheduled classes.
Calendar/Schedule
2017 At a Glance Schedule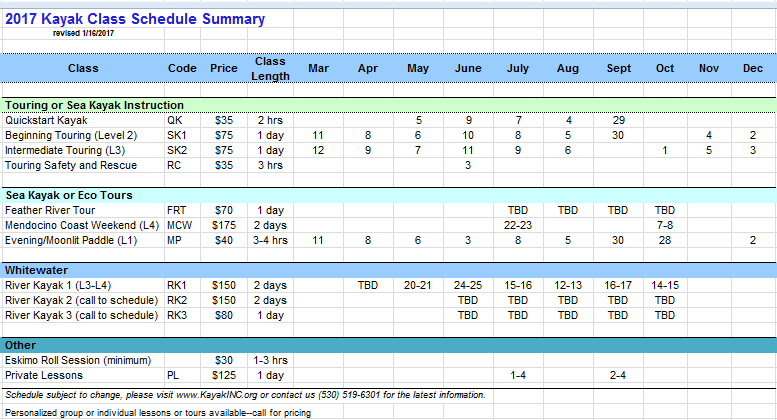 Registration Information
Space is limited, sign-up early.  Sign-ups are secured with payment (PayPal, cash, or check).  You must receive confirmation from KayakINC before you are accepted into the class.
Please call or email,  if you have questions on classes or the schedule.  We can alter the schedule to accommodate the demand for other classes or tours.
Cost includes boat and boating equipment.  Here's a Trip checklist for participants on recommended items to bring. Classes based on ACA course content.  All participants must read and sign a Waiver and Release of Liability and an ACA waiver.  Weather and other condition may modify class location and content.   Students will be refunded for cancelled classes.
Touring or Sea Kayak Instruction
Quick Start Kayaking (QK)
This class provides a low-key, brief introduction to the sport. We cover basic water safety, boat design, and boat handling.  Please check with us as to dates and to sign up.  Prerequisites: None.  Trip length: 3 hours.  Meeting time: TBD.  Dates: See Calendar.  Cost: $35.
Beginning Touring/Sea Kayak (SK1)
The perfect kayaking introduction for recreational or sea kayakers, we will guide you through the skills and safety that you will need to become a proficient kayaker.  The class includes an introduction to the kayak, launching, and an overview of basic strokes.  Combine this class with the Intermediate Touring class for a complete weekend!  (ACA Level 2).  Prerequisites: None.  Trip Length: 1 day.  Meeting time:  8:30 am.  Dates:  See Calendar. Cost: $75.
Intermediate Touring/Sea Kayaking (SK2)
We build on Beginning Touring skills and introduce more advanced techniques, such as bracing, edging, and especially rescues.  This course is a prerequisite for more advanced tours and builds your confidence to take on new challenges. (ACA Level 3).  Prerequisites:  Beginner Touring class or previous paddling experience.  Trip Length: 1 day.  Meeting time:   8:30 am.  Dates:  See Calendar.    Cost: $75.
Touring/Recreation Kayak Rescue Clinic (RC)
The purpose of this clinic will be to teach some basic touring or sea kayaking rescue skills to gain confidence and maximize your paddling experience.  Prerequisites:   Past paddling experience. Trip length:  3 hours.  Meeting time and Dates:  See Calendar.   Cost: $35!
Sea Kayak or Eco Tours
Sacramento or Feather River Wildlife EcoTour (FRT)
Our rivers support a variety of bird, mammal, fish, and plant life and surprising natural beauty.  Join Dan Efseaff, a restoration ecologist, and ACA instructor, as we paddle, explore, and learn about the rich natural history of this area.  We'll stop to explore restoration sites and riparian forests, view wildlife and learn about natural history.  No two trips are ever the same and depending on the time of year, we'll see eagles, salmon, and migrating birds.  Although there's plenty to see, some waves and small rapids will keep paddlers busy between gentle pools.  The class includes kayak gear and a brief introduction on paddling, but the focus will be on exploring this local treasure.  Class location depends on river conditions and participant preferences.    Prerequisites:  Previous paddling experience suggested but not required.   Trip Length: 1 day.  Meeting time: 8:30 am.  Dates:  TBD/See Calendar. Cost: $70.
Mendocino Coast Weekend Tour (MCW)
Come find out why the Mendocino Coast is a world-class paddling destination. We will spend 2 days exploring sea stacks, tidal rivers, coves, and caves. Where we paddle depends on conditions and group experience. Trip costs cover camping fees and kayaking gear. Prerequisites: Intermediate touring class or equivalent. (ACA Level 4). Trip length: 2 days. Meeting time: 8:30 am (at the coast!) Dates: See Calendar. (typically late summer and/or fall). Cost: $175.
Moonlit Paddle (MP)
During the moonlit paddle, we will enjoy the magical mix of paddling, watching the sun set, and the moonrise on local flat water. Paddling on moonlit water is a truly unforgettable experience! Please call beforehand for details and to register.  (ACA Level 1).   Prerequisites:  None required.  Trip length:  3-4 hours. Meeting time: 5:30 pm (on site) Dates:  See Calendar. Cost: $40.
Whitewater Classes
River Kayak  (RK1,  RK 2, and RK 3)
Get started on the right path to becoming a whitewater kayaker.  In River Kayak 1 (RK1), we will cover basic strokes and concepts (equipment, skills, and safety) (ACA Level 3 or 4).  In RK2, we review these skills and apply them to moving water and learn some tricks on reading whitewater. (ACA Level 4).   In RK3, we will put it all together for a river trip and focus on the skills and judgment needed for Class III and beyond (ACA Level 4 or 5).    Prerequisites:  None (RK1), prior class (RK2 and RK3).   Trip length:  2 days (RK1 and RK2), 1 day (RK3).  Meeting time: 8:30 am.   Dates:  See Calendar/Call to schedule as some dates may open up at the last moment.  Cost: $150 (RK1 and RK2), and $80 (RK3).
Eskimo Roll / Pool Session
The Eskimo Roll is an important self-rescue technique.  Paddlers that have a roll gain confidence and a willingness to try things and lets them progress fast.   We will build the skills needed for the Eskimo roll in this two-session class.  Not everyone can get a combat roll right off the bat, but this class will help build on rescue techniques that will make you a more confident paddler.  This class can also be set-up for sea or touring kayakers who wish to learn boat-based deep-water rescues.  All equipment provided.  Prerequisites:  None. Trip length:  2 hours.  Meeting time:  TBD.  Dates:  TBD.   Cost: $30 minimum.  Private lesson rate.