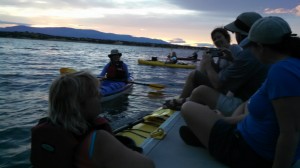 We will update this page with details as we get closer. 
Celebrate Boater Safety with a Flatwater/Sea Kayak Safety Clinic and Paddlehead camp out on Saturday 6/3/17 to Sunday 6/4/17!    We will be at the Orland Buttes Campground and boat launch (handout). Here's how you can participate:
Skills – Open Water Rescue and Safety Clinic (Sea Kayak and Touring),


Safety Clinic :  I will be teaching a class open to the public in the morning.  The purpose of this clinic will be to teach basic touring or sea kayaking rescue skills to gain confidence and maximize your paddling experience.  Participants are encouraged to bring their own boat or we can supply kayak, spray skirt, paddle, and PFD (just let me know).   Prerequisites:   Past paddling experience. Trip length:  3 hours.  Meeting time:  9:00 am.  Cost: $15, class size limited
Rescue Practice: Practice with other Paddlehead members in the afternoon (free!).   Not a class, just an opportunity for everyone to practice with their peers, and so the more experienced paddlers can help the newer paddlers.  I will demonstrate a couple of techniques and approaches.  Prerequisites:   None, bring your own boat Trip length:  about 3 hours.  Meeting time:  1:30 pm. Cost:   Free to Chico Paddlehead Members only.

Camping and paddling:  We have a campsite available for Paddlehead members.  Cost is free, but you must RSVP beforehand (please don't keep a spot from someone that really wants to go).  We will do an evening/full moon paddle (bring a waterproof light!) and paddle Sunday morning.
 Food:   You are welcome to bring your own or get in on the group food.  Club member (and fantastic camp cook) Calvin Hamilton has agreed to make a delicious Saturday dinner and Sunday breakfast.  Last year's costs were less than $15.  Calvin will be developing a (fabulous) menu and prices.  Bring your own table service (plate, knife, fork, mug, etc.) and beverages. Calvin does a great job of cooking, but everyone must help clean up.  No refunds after 5/20/17.
Boats: bring your own or line up any members to bring one for you (let me know before 5/20/17, if you want to rent a boat (singles and doubles) from Kayak In Northern CA for $35).
June is busy, but if mark your calendar for 6/3/17,  if you'd like to go!!!!
Summary of cost
Camping, afternoon rescue practice, and paddling on your own – $0 (Paddlehead members only with RSVP).  You must be a Paddlehead member.
A.M. Safety Clinic – $15 – I can bring a boat to use, or bring your own. (Open to the public)
Food!  Bring your own food – $0.  Dinner and breakfast, limited to first 20 people) – $15.
If you want to do everything:  Clinic ($15) + Food ($15)  + Camping ($0) + Fun (bring your own) = $30.  Just Camping + Paddling + Fun = $0, priceless (you get the idea….).
How to Sign up:
Reserve Camping Space or Food – Please email or call to reserve a camping spot. Send a $15 check (to the address below).
Secure spot on the AM clinic or rent equipment (kayak, paddle, skirt, pfd, rescue gear, etc).:

Use the PayPal link at (at KayakINC.org ) for the AM Safety Clinic. OR Check with me on room in the class, then please mail checks to:
KayakINC,
1573 Kona Drive,
Chico, CA 95973.